Client Catches – 'Operation Big Bass'
It's been a great autumn so far… The weather has, on the whole, been very kind and hasn't really hindered my guided bass lure fishing exploits, plus, the quality of the fishing has been equally pleasurable. Moreover, as you'll read in my subsequent 'Client Catches' posts, the size of the bass landed (and successfully released as always) has been something I am very proud of. Whether these achievements are down to the small ones being far less prevalent (as they often are around this period in the season), or whether the larger bass have simply 'moved in' so to speak, is anyone's guess…
Maybe, though, my/our tactics have been 'spot on', and this is why my clients have landed a number of bass between 60-70cm in recent weeks? Could it be down to the venues, the types of lure or the colour of the lure? Or maybe the overall conditions leading up to the event have simply been more conducive to producing better-sized fish…? But here's a different and more thought provoking angle… Is there a way that you or I can specifically target the larger specimens only? Again, maybe, just maybe this is possible – especially when 'Operation Big Bass' is in full affect!
Handed down…
You would have read many times within my blog posts how I really enjoy having a good old sniff about in other peoples lure boxes! What's more, more often than not I will come across something either 'old', that brings back memories and that I fancy attaching at some point over the session (or the days that many clients now spend with my on my 3 Day Packages), or something 'new' catches my eye. Whichever the case maybe, I will subsequently wait until the most opportune moment to ask my client to clip it on for a dunking!
So when a recent client of mine Dave (a smashing bloke who is a rare commodity nowadays – soemone who lives in Devon!) allowed me to have a poke about in his lure boxes, as I picked out his well-used Rapala Skitter Pop ready for a good-old reminisce he took great pride in telling me how his Dad had caught a lot of bass on it over the years, before handing it down to him in order to maintain the family tradition – what a lovely story this is already!
The actual version in question is the 9cm, 14g variant (in the Shad colour/configuration), not the giant 40g bad boy that I've still got in my 'classic' lure collection somewhere, or the diminutive 5cm/6g or 6cm/7g versions. It makes me smile now as I write this, as on clapping eyes on his Skitter Pop I recall saying to Dave that "we're going to catch a bass on that during this package mate…" And a bass we most certainly did – the 68cm 'angry one' in the featured image!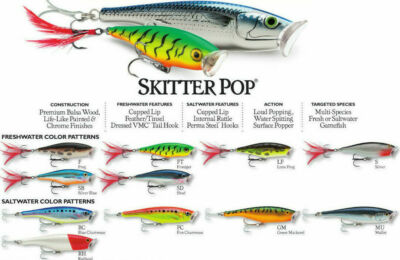 Breakage…
Having guided Dave lets just say a 'few times' already this season without too much success, when (following a late cancellation) the opportunity arose to send in some 'back up' I immediately gave him a call, at very short notice I hasten to add, to see if he could 'blag' a couple of days off work, and even more critically, to see if he could attain the required 'permission' from his good lady wife.
Thankfully all of the above went swimmingly! However, the next stage didn't quite go to plan when he took a stumble (actually, he inadvertently slipped arse over tit on a slipway of sorts) at the end of Session 1 of 6, snapping both his rather expensive, if doomed, Shimano Lunamis rod and destroying the handle on his Shimano spinning reel in the process. To his immense credit, but then this is sort of brilliant bloke he is, he didn't moan, get p*****d off, or let it get him down – instead, he just shrugged it off and asked if he could borrow one of my set-ups for the next few days!
Confidence
With Session 2 requiring a trek over rocky ground, followed by a lovely little climb down to the venue via a rope I'd recently 'put in', it was with severe levels of trepidation that I: a) watched him like a hawk over the terrain and b) prayed that he wouldn't snap the excellent 8′ 6″ Tailwalk Hi-Tide SSD 7-35g rod that Ben at Art of Fishing had very kindly lent me or knacker my precious Shimano C3000MHG Ci4 spinning reel in the process…!
With the initial walking and climbing element to the session successfully navigated, the other boys (Dave M and Andrew) and I were over the Moon when a cry of "yeah, fish on" came bellowing out of the salty mist, as Dave latched into his first ever 'night bass' on the ever reliable Albie Snax. It was the only fish of that short session too, but boy he'd deserved to catch it – fair play.
Day of reckoning
Day 2 of a 3 Day Package is often the one when we go 'full-tilt' in relation to the intensity of the fishing, and potentially, the magnitude of the venues – as they are rarely easy to get to trust me! Energy levels will be high, the creases would have been ironed out (I like to hone people's casting technique and ability to work the lures as quickly as possible as I know that this massively increases their chances of catching) and everyone will be comfortable with each other by this juncture too, therefore, it's a case of me guiding hard and them fishing hard!
Embarking on a long down-hill trek (that would clearly be 'up-hill' on the way back!) I'd already decided precisely where I was going to position my trio of eager beavers, in addition to having a good idea of what lure types I was going to ask them to attach once we'd got there. With the flooding tide nearing the point where it would soon be accelerating (between hours 2-5 of the 6 hour 10-15 minute process) I believed that my initial choice(s) to ask my clients to clip on a Patchinko 125 (for distance and searchability), a Sight Flash Keitech Easy Shiner (fished deep in the murkier section of brackish water to counter any notion that the bass might not be 'up' for whacking surface lures) and a naturally coloured Savage Gear Gravity Stick Paddle Tail fished adjacent to the weedy margins would cover all the bases…
In the back of my mind was Dave's Rapala Skitter Pop though… And as the first 45 minutes of the session passed without incident, and with the current now visibly shifting Andrew's Patch 125 each time he left it to rest (a 'manual trigger point' I'd asked him to now add, and can be a great way to tempt a bass when the flow is running hard) I decided it was time to unleash our secret weapon – 'Operation Big Bass' was about to be implemented!
Situations
If I told you that during approximately 3 hours of use, that a tactic I have/we've employed has produced bass 70% of the time, and that the fish landed have measured 57 (here), 58, 58, 66 (here), 68 (here) and 68cm respectively (that's an average of 62.5cm/getting on for 6lb) I am sure you would also come to the same conclusion that a gently popping a surface lure within certain settings is likely to be grabbed by a 'red-letter-day-making' bass…
Generally speaking, there are four environments or situations in which I will consider attaching a popping surface lure or 'popper':
On the open coast, when there is a decent swell washing in and around the rocks and adjoining gullies.
When and where 'surf tables' are forming, as the waves break onto and over a reef system dotted with deeper pools.
From an exposed, deep-water headland, when the tide is racing, laterally, past me/us.
Within an estuarine environment, when the velocity of the current is making it difficult 'work' a small or medium-sized sliding surface lure in an effective and/or a natural appearing manner.
Wind back 15-20 years or so ago in regards to my personal bass lure fishing exploits, and a 'popped' Storm Chug Bug within environments 1, 2 and 3 would continually prove to be one of the most consistently productive methods. Moreover, in relation to my personal fishing and then my guiding endeavours last season (when I made a conscious effort to return to these tactics/methods to great affect – although I won't talk about the two separate 58cm bass I embarrassingly hooked and landed whilst demonstrating its potential to two separate clients!) within setting 4 as it were, the use of smaller surface popping lures, and indeed what is the hybrid sliding/popping surface lure, the Whiplash Factory Spittin Wire, proved both fruitful and extremely enjoyable as you can see below!
Capitalising
'Adding a pause, or allowing the lure to rest when the flow is running hard' is something you would have read within the preceding paragraphs, and I have to really emphasis just how important, critical even, that this can be if you're to 'execute' the plan effectively. It all sounds rather ruthless of course, but when I have paying clients (who are ready to fish until they drop in the nicest possible sense), stood on proven 'big bass marks', during a prime segment of the season, and in equally prime conditions, then it goes without saying that I have to capitalise on these occurrences.
This is why I took the time to pass Dave's beloved Skitter Pop to him, before standing thigh-deep in the current, talking through precisely how we were going to make the piece of balsa wood now dangling from his (my/Art of Fishing's!) lure rod appear like something a larger than average-sized bass simply wouldn't be able to resist…
The Method
To give ourselves every possible chance of fooling a bass whilst utilising his prized lure, firstly, I ensured that he made a cast 'up-tide', so that it could be brought back towards him naturally with the current/flow/tide. Secondly, the rod tip needed to be held almost upright at 90 degrees to the water, so that the least amount of braided line possible would be in contact or settling on top of the water. This process serves two purposes: a) it reduces the amount of drag on the lure, thus lessening the possibility that the lure will flip on itself and tangle on the leader and b) when he came to administering that 'pop', via a short, sharp, lifting even further of the rod tip to, briefly, a near vertical position, there would be as little overall movement (that may spook an older and wiser bass) to the line as practically possible.
To achieve 'Part B' of the above, the real skill here would be ensuring that he retrieved enough line onto the spool as the lure was brought towards our position, so that when he swiftly but gently lifted the rod tip further, there would be enough tension to immediately make the lure 'pop' or 'spit'. What we were really trying to avoid here though was moving the lure in any way outside of that pop – which is easier said than done, but with practice, is most definitely achievable and would prove to be devastatingly effective.
As an aside, the thing that I believe some of my clients (and perhaps some of you reading this?) have initially found difficult to comprehend is that a bass will take the lure when it is isn't actually doing anything but floating, motionless, after they've popped it (essentially within the periods of the pause) – but this is what makes this method so special, and that I firmly attribute to being capable of fooling the better-sized bass.
In very basic terms, a lure 'popped' by the angler in this environment, and the others I've mentioned, is mimicking a prey item that is struggling, injured and is therefore gasping for survival, therefore making it extremely vulnerable and a very easy proposition, alongside being an easily obtainable meal for the forever opportunistic bass… The reason the pauses (under the control previously covered) are so important is that they enable the lure to move at precisely the same speed as the current/flow/tide…
So how long should you wait between pops? The longer the better if the tide is racing through, however, generally speaking we are talking about between 3 and 6 seconds, depending on the pace of the tide – the faster the flow, the longer the pause, although two very quick pops in succession and then a long pause can be a winning combination also. So why does this tactic pick out the big ones? In my opinion, the smaller bass possibly aren't always 'savvy' enough to take advantage of the situation, but the real reason, I think, leads all the way back to what I said earlier in the post about a sliding surface lure being difficult to look or appear 'natural' when it is cutting across the current, yet something almost begging to be put out of its misery, moving (although it isn't by the angler remember) at the exact same speed as the flow, quite possibly looks and appears (to the bass) to be as natural as it gets…
Oooooo and that take when a bass nails it – it truly is heart-stopping stuff as I am sure Dave will will testify! I thought I was going to have to press the button on my Personal Locator Beacon at one point!! 🤣
My Books
My most recent book Bass Lure Fishing – A Guide's Perspective and my first release 'The Lure of The Bass' (Bass Anglers' Sportfishing Society review here) are IN STOCK and are available to reserve. If you would like to purchase a copy of either publication, please contact me via the Contact Form at the bottom of this page and I will send you the payment details. I can accept PayPal or a Bank Transfer.