10 Items of equipment I'd recommend from 2020
Another year on (scary isn't it!) and here I am deciding upon and finalising which items should make the 'Top 10 items of equipment that I would personally recommend from 2020'. I doubt there will be too many surprises here though, the reason being that I do generally write about what is working for me (from extensive personal use) over the course of the season. However, in this post I will try and elaborate on why I rate these pieces of kit so highly, in addition to where you can purchase them. Straight into it then, and in no particular order…
1. Shimano Vanquish 19 C3000MHG (available here) £399.99 gulp…
I'll start with the most expensive item first of all! Should I have purchased a fishing reel for use in what are harsh, salty, sandy, muddy environments for a penny under £400? And I did I tell my wife how much it cost? No, and definitely no!
I don't consider myself a lure fishing 'snob' (aficionado maybe!) but I have to say that after 'going back' to Shimano reels via the old Stradic Ci4 last year I wanted one of these – badly! They look gorgeous, the 3000MHG weighs a ridiculous 170g (which personally I like a lot) and the fact that they are built in Japan with finer components (maybe?) all in all did it for me.
I have to say that this is the first reel that I have ever really looked after, courtesy of actually reading the manual, cleaning it every so often and abiding by the recommendation to complete a mini service every five sessions or so. By adding Shimano or Bantam Oil into the servicing port and roller bearings, in addition to 'greasing up' the shaft and the drag, 14 months on from purchased this reel (which has been dropped and banged on the rocks and has sank to the seabed twice in shallow water) on the whole, the Vanquish is still looking great and as far as I can tell, she is still running great in terms of smoothness and how the complete drag system performs. Is she worth four hundred quid though? Not really, but then is there a spinning reel that is? Would I buy another one? Absolutely yes…
2. Taimen Onon Wading Boots (available here) £89.99
Mid-way through the season I found myself in a bit of a predicament in regards to waders and boots. I'd gone through all of the pairs of AirFlo waders (that I'd recommended last year (here) and then stashed away) plus my excellent Scierra X-Force wading boots had finally fallen to bits. Everywhere I looked in the UK had sold out therefore, after the usual browsing and reading other people's reviews I decided to take a punt on the Taimen Onon Boots as part of a deal comprising the boots, a pair of breathable stocking foot waders, a smart cap and the studs – all for what I thought wasn't too bad a price at £189.99 all in.
A quick shout on the stocking foot waders before I continue. The neoprene sock (which is usually the 'achilles heel' on most of the waders I wear) was absolutely fantastic. The only problem, and they did last well it has to be said, is that I think the actual breathable material is slightly on the 'thick' side, which translates to them reacting badly to being shoved in the back of a car and crumpled up for long periods… Entirely my fault of course, as the inner knee area on the waders suffered and eventually split to allow just the occasional trickle of water in.
Back to the boots. Firstly, my feet are, rather annoyingly, just under a size 8 which meant I had to risk buying my actual shoe size in the hope that the Taimen sizing structure took into account the stocking foot element (as they do on the Scierra X-Force boots) or buy the next size up as it were. The risk paid off, as although I had to wear quite thin socks when I discovered they were a little snug initially, within a few days of use I was very, very impressed with how sturdy and comfortable they became.
Moreover, one of the reasons I liked the Scierra boots is because the studs are cleverly fixed into the sole and I was getting sick of having to continually screw replacements into the Safety Trainer Boots I took to for a while. However, another positive facet to these Taimen Onon Boots was that after whacking in the (included) studs, into what they say is an additional 4mm of reinforced hard rubber, I have also been impressed by how long they have remained in place – some of them have even held on right up until now as you can clearly see below.
One further point. The weak spot on many wading boots (which lets face it, aren't built with saltwater use in mind) is those top eyelets – the ones that 'draw' the laces together towards the ankle area of the boot. Again, despite abusing these boots and never washing them off, these components are wearing extraordinarily well. My verdict – Highly recommended.
3. Marc Cowling Magnetic Weight Shifting (MWS) 'Surf' Signature Needlefish (available here and here) £24.99
I am not at all ashamed to be recommending a product that I have carefully formulated and developed, as I know, through extensive testing and by the videos/photos I receive, plus all the bass my friends/clients and I have caught on them, just how lethal the first and now the second generation of this MC Signature Needlefish is!
On the drop, after a few turns, halfway in or right under the rod tip – the magic is in the dexterous, subtle and highly sensitive manoeuvrability of these lures to perform in a manner that a weightless soft plastic would, yet with oodles of casting prowess and underwater stability. Quite how my friend Tom Cooper at TC Lures managed to design and incorporate his Magnetic Weight Shifting system into the lure without affecting its overall action and movement (which is critical to its effectiveness) is a secret he won't even tell me! Not only is he a brilliant bass lure angler, he is also a very, very clever and talented sculptor.
4. Eagle Claw Trokar TK160 + 70 Weedless + Weighted Swim Bait Hooks(available here) £5 – £8
Although hooks aren't particularly exciting, in the overall scheme of converting that 'bass attack' into a succession of treasured moments (the take, the battle and actually landing a fish) they are vitally important! And like many of the components associated to bass lure fishing, confidence in specific items of equipment (braid, fluorocarbon, lure clips, etc.) makes for a contented angler – all of which explains why I like Eagle Claw Trokar TK160 + 170 Hooks.
It was the very wide gape on these excellent hooks (which you may see being referred to as 'Magnum Trokar Hooks) that initially caught my eye just over two years ago now, when I was looking for something to rig the larger, chunkier and slightly less malleable senkos (the Insane Creations Bass Slayer that I don't think are available anymore much is the pity) and the Albie Snax onto. These forged, heavy wire hooks come with a surgically sharpened, three-sided, symmetrical point that is scalpel-sharp according to Eagle Claw. I wouldn't disagree with this prognosis either!
Having used the 5/0 size primarily for my fishing, all I can say is that they don't rust all that easily (confirmed by the length of time some of them have been in my lure box!), they are and do indeed remain extremely sharp, and above all, the hook-up rate is excellent. The final point is important, as I have been apprehensive about using weed less swim bait hooks with a belly weight attached in the past, for fear of not consistently achieving or setting the hook. However, this concern has recently been completely dispelled when rigging numerous paddle tail soft plastics onto the weighted TK170 versions and hooking/landing a lot of bass.
5. Sunslicker Swimish (available here) £8.50
A 140mm, 13g, weed less paddle tail lure in its purest form, the effectiveness of which was rammed home to me following the capture of bass measuring 61cm + 63cm during the same short session (that you can read here). Subsequently the Swimish has yielded bass in a multitude of sea conditions ranging from exceptionally clear water to extremely murky whilst fishing within a powerful, laterally running tide, in both daylight and in darkness over the past 7-8 weeks in particular. An invaluable addition to my armoury.
I have no idea what grade (if that is the correct term?) of hand poured material the Sunslicker Swimish is made from, but what I do know is they strike the ideal balance of rigidity come malleability, cast-ability and durability – a combination that I imagine took a long time to perfect. Yes, there are a lot of similar lures out there, but I am seriously impressed with these!
6. Savage Gear Super Light Jacket (available here) £84.99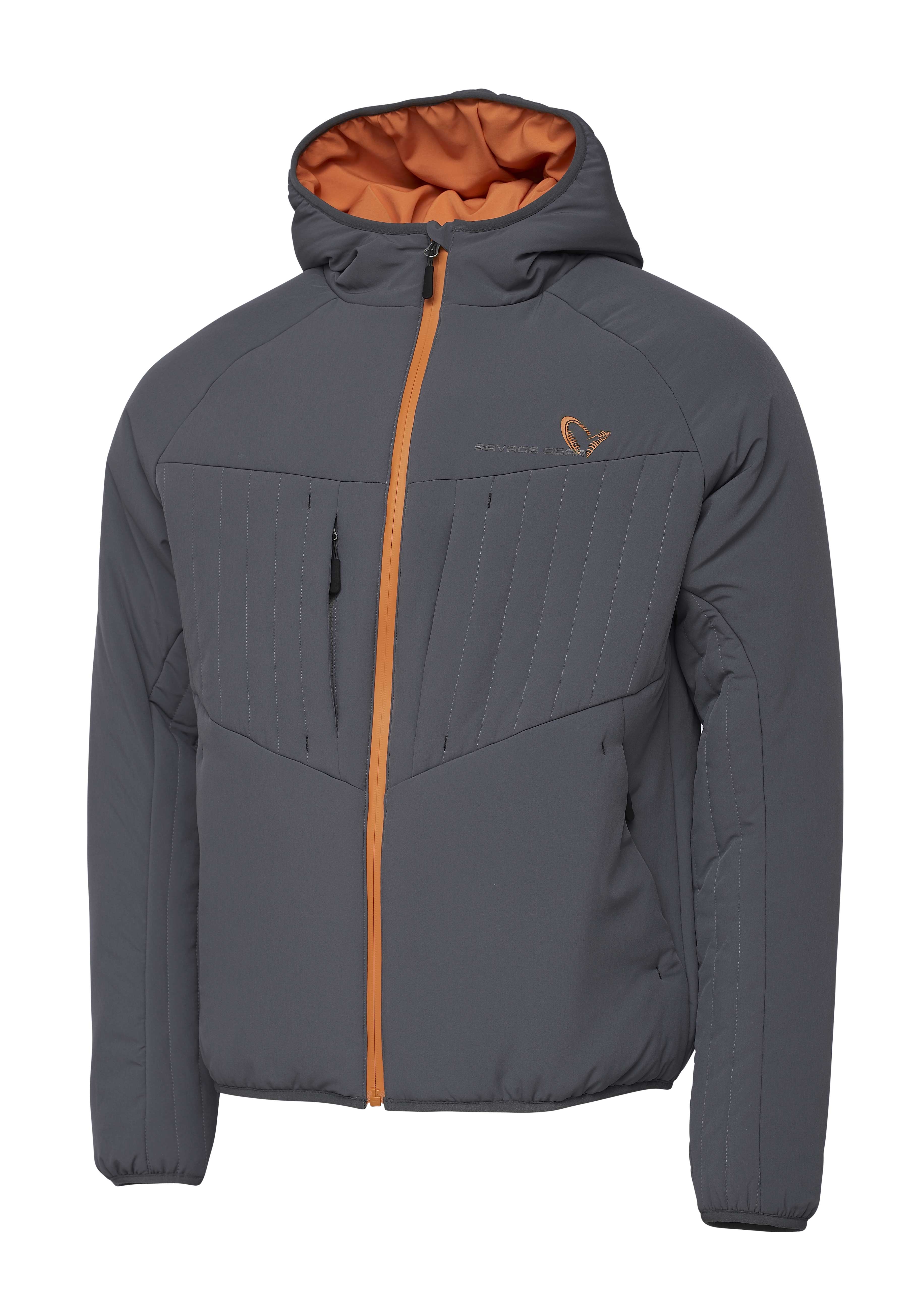 "Ideal for cold, windy days" forms part of Savage Gear's description of this wonderfully snug and comfortable jacket, and having been stood fishing in such conditions on a regular basis recently I can confirm that it is just that! Furthermore, having worn this garment during the majority of my fishing since the second week of November I cannot agree more with the claim that it is 'windproof' and can also add to the list of attributes that it is 'shower proof' and does in fact dry very quickly! Love the hood, love the quilted material and love all the pockets, it's also thin enough to allow you to wear a designated waterproof jacket over the top. Savage Gear have done a great job here.
7. Advanta PS Folding Rubber Landing Net (possibly available here) £39.99
Possessing all of the components that I require in a landing net (sturdy, solid aluminium frame/rim, rubber mesh, telescopic, light-weight, relatively inexpensive), it was the simplicity of the design and the lack of anything that could potentially rot, snap, seize up or bend that stood out for me initially. And having 'trashed' many a landing net since becoming a pro-guide I am actually astounded at how robust and seemingly saltwater-resistant this Advanta PS Folding Rubber Mesh Landing Net is!
The problem is getting hold of one, or indeed if Advanta are still making them? Having purchased mine on eBay 18 months ago I have searched around whilst writing this review and unfortunately I cannot find them 'in stock' anywhere – although the link above takes you through to Angling Direct, who I believe Advanta are part of. Below is a nice video too!
8. Energiser Head Torches (available here) £11.49
I've no doubt you would have noticed the Green or Grey head torches wrapped around my bonce whenever I've been photographed holding a prime 'night time' bass over the past 3-4 years, and maybe wondered what make they are? Well, I can reveal that the two previous versions I've been wearing are the Energiser HD+ headtorches (with 350 and 400 lumens of output respectively). These came with shatter-proof lenses, are impact resistant (up to 1m) and are waterproof (weather/rain proof in essence) to IPX4 waterproof standards, meaning they are protected against splashing water from all directions).
Fairly lightweight (at around 150g) the 3x AAA batteries that power them are included in the packaging also, which when you consider their price at around £10-12 you really can't complain. Above all though, neither of these head torches have ever let me down, even after I've (briefly) immersed them into the sea, dumped them back in my rucksack/pocket and then pulled them out to wear again time after time, which is why I have upgraded to the 450 lumen model in the image above. Moreover, if your current head torch doesn't possess the ability to 'flick onto red' in the first instant or on a separate setting (vital for maintaining night vision or reducing the risk of spooking fish) then I think these might just fit the bill for you.
9. Savage Gear Gravity Stick Set (available here) £29.99
From the moment I first set eyes on, got to hold and ultimately fish with one of these lures (just under a year ago when Henry popped up to fish with me late last January) I knew they would catch bass. Indeed, within the first few sessions that I employed the Pulse Tail pattern I hooked, but unfortunately lost, what would have been the Holy Grail – a February lure-caught bass! Thereafter, when I eventually received one of the first 'box sets' to arrive in the UK I was mightily impressed, not only with the quality of the finished product, but the whole concept.
As I said in a blog post I wrote back in early autumn (here) the thought process and overall detail on all three patterns (the Pin, Pulse or Paddle Tail), in addition to the ability to add internal rattles and tungsten weights into the body of these excellent casting soft plastics had 'designed by a bass lure angler' written all over them! Add in the specifically designed hooks (weightless or with a 3g belly weight) and the very natural colours into the equation and what you've got is a selection box of bass treats for a very, very competitive price when you consider how much (and how difficult to obtain) all the similar lures, hooks and bits and pieces would cost to track down and actually purchase.
If you're one of the thousands of anglers who have already purchased them, and indeed caught bass on the Gravity Sticks, then you certainly won't need me to tell you that they work! What I can add is that they have worked within estuaries and the open coast, in addition to clear and murky water, both in daylight and in darkness. Congrats to Henry and Savage Gear for all the effort that went into them – you nailed it!
10. Xorus Patchinko 100, 125 + 140
Everyone owns at least one Patchinko right? Maybe. Maybe not… If you're new to bass lure fishing and whilst reading this post you've realised that you don't own any of the lures in the Patchinko series above, then do yourself a massive favour and buy them! Seriously, you only need to flick through the catches achieved by my clients and I this season (they even work in the dark!) to appreciate that they have accounted for a massive percentage of the bass we've landed – with nine of the 60cm+ bass I have personally landed this season alone taking a fancy to them!
Quite why they are so deadly when compared to similar lures is a bit of a mystery it has to be said, but again, for me, the 100 is the quintessential 'bait fish scattering' imitation – ideal for use in those sheltered bays and estuary marks when there's hardly a ripple on the surface. The 125 provides that extra bit of distance when it's required, alongside the capability to be to retrieved in either an understated fashion or indeed, to be thrashed around in choppier seas if required. The 140. Well, it has a massive following and for good reason – it can be launched a very long way and remains both stable and highly noticeable even in large swells and heavier seas – one of the ultimate big bass lures!
Does the colour configuration really matter I hear you ask? For me, I really like the 500g/Lieu pattern, however, any of the variants incorporating that shimmering/flashing/mirror-like internal plate would easily take up residence and more than likely precedence in my lure box. And what of the recently introduced 7g 85 and 45g 165 models? Not sure about the 165, but the 85 is most definitely on my wanted list for next season!
Get in touch
If you have any observations or have any experiences (good or bad) in relation to any of the items I've covered please do get in touch. Moreover, if there are any items that you'd personally recommend yourself I'd love to hear about them.
Thanks for reading.
Marc Cowling